OTTAWA EVENT RENTALS & DESIGN
Family Owned & Operated Since 2007
In 2007, while planning our own wedding, Scott & I realized how difficult it was to locate and rent items in the Ottawa market. In particular, I desperately wanted a photobooth at our wedding to capture those fun, fleeting moments. It didn't take long to figure out that Ottawa is at a disadvantage since it's sandwiched between the larger event markets in Montreal and Toronto. There was no supplier in Ottawa who could get me my photobooth, and companies in Montreal and Toronto fell short of our requirements. Our closest option ended up being in upstate New York (which promptly got stuck at the border on our wedding day).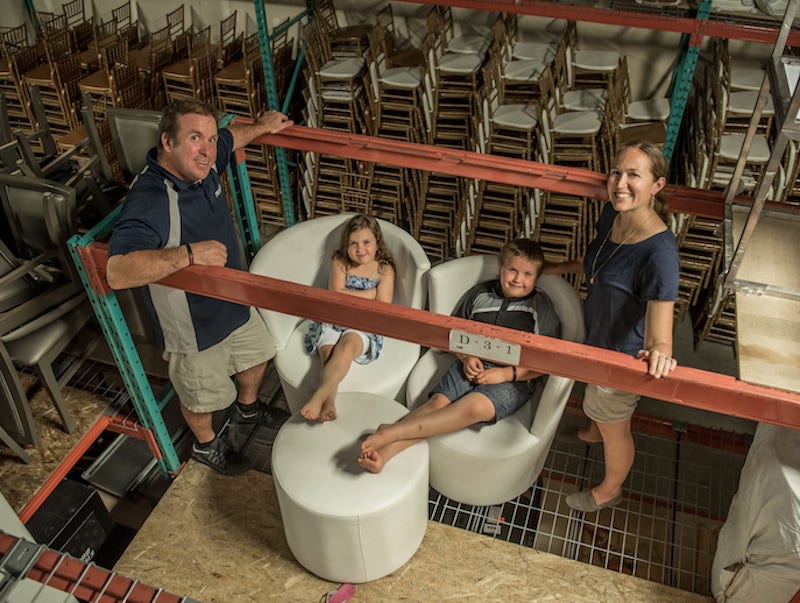 We took the money we had been gifted at our wedding and decided to invest in our first photo booth, knowing that we couldn't be the only people in Ottawa looking for one. Our first client wanted a photobooth and chair covers, so we thought, "Why not! let's buy some chair covers!" We started out believing that the basics would be sufficient, but our next clients' requests became more elaborate. Things began to snowball from there.
We started out small, running the business part-time out of our living room, acquiring products as needed. But as our inventory grew, our house seemed to shrink, and after about a year and a half of operating from our home, transforming our living room to a show room and hosting client meetings amidst our newborn son's schedule and a rambunctious puppy's antics, we eventually took the leap and rented warehouse space. We were a team of three people praying we weren't making a huge mistake.
Despite having started with just our family, we now have a staff of 15 people providing products for hundreds of events each week. We have grown from providing only photo booths to providing day-to-day linens for hotels, restaurants, colleges, and event sites, as well as customized strategic event design for tradeshows, conferences and client events. After four years of building up the company, I took the plunge and started running the business full-time, with my husband joining me six months later – we were all in.
It has been a remarkable journey with many zig and zags and no end in sight. We have met wonderful people who we now consider life-long friends. We have been challenged, we have failed, we have picked ourselves up and learned from it and become better. There is no road map, but we keep looking to the future and pushing forward.
Our business is our third child and we are beyond proud of what we have created since 2007.
From our family to yours!
Jen, Scott, Chase & Bryn McAndrew
Professional Affiliations